Kristy
Bachelor's in Nursing, 2007

ACE Certified Personal Trainer

NASM Certified Nutrition Coach

Balanced Body Reformer Pilates Instructor
Exercise and proper nutrition are the absolute best things you can do to manage your physical and mental health. I spent years as an ICU nurse watching sick people get sicker and decided that I wanted to help prevent people from the myriad of diseases that come from a sedentary lifestyle and poor nutrition. I believe in empowering and educating individuals to take control of their health and love seeing the impact this mindset change can have on someone's entire life. During one of the most difficult times in my life I was overweight, depressed, eating poorly, and drinking heavily. I took action to overhaul my life and that transformation started in the weight room. No matter how bad my anxiety was, an hour of pushing my body to new levels of discomfort allowed me to find mental peace and clarity and over time completely changed every aspect of my life for the better. That's why I do what I do – because I want to help YOU find that same peace and clarity in your life.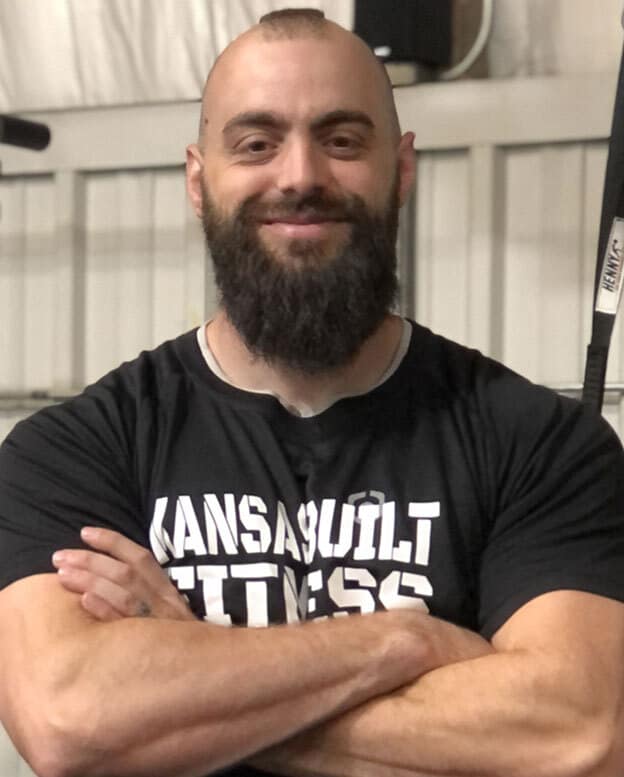 Nathan
Wells Spring School of Allied Health 2015

Corrective Exercise Specialist

Barbell Rehab Method Certified

Certified Personal Trainer

Performance Enhancement Specialist
I started personal training because I love fitness, and I've stayed in personal training because I love seeing people change their lives through fitness. It doesn't matter what my client's goal is, seeing them achieve something they never thought possible is incredibly fulfilling. As a former college athlete, I enjoy challenging people to become the best athlete they can be, but that is just one aspect of training I enjoy. Training a wide variety of people who have differing and specialized needs and seeing them change and improve inside and out from fitness is the highlight of my work. I've had the privilege of partnering with individuals who have amputations, those who have suffered strokes, and those who are wheelchair bound to become more physically independent and mentally stronger. Additionally, I've been able to work with a blind client to improve coordination and proprioception, slow the progression of Parkinson's disease in multiple clients, and help the mentally impaired lose weight and gain strength and confidence. I wake up every day and do what I love – making sure my clients' lives are changed for the better each and every day!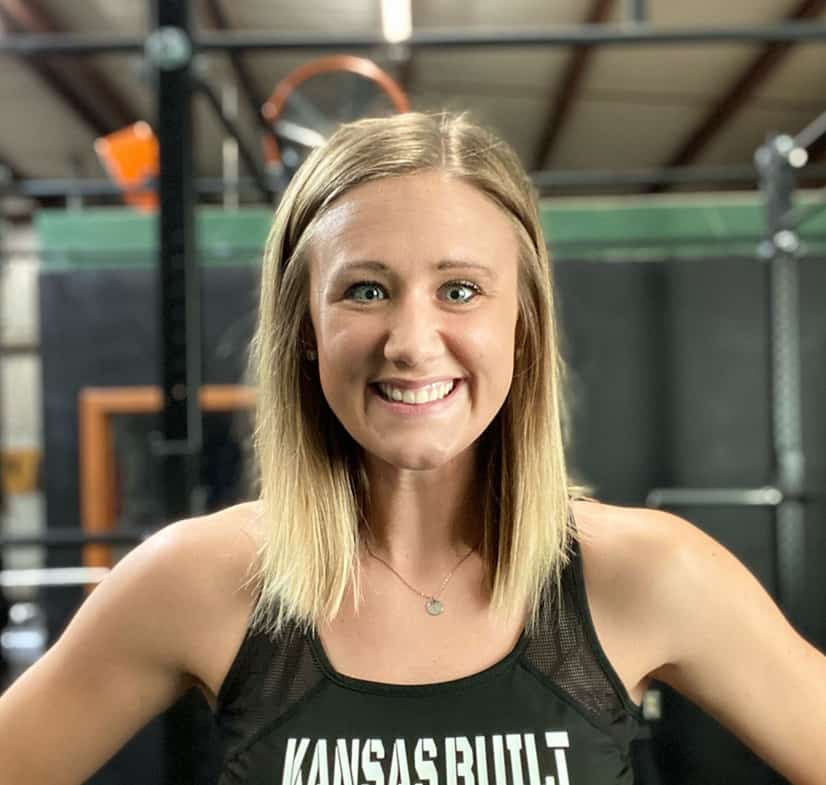 Christen
Master's in Sports Administration 2019

Bachelor's in Physical Education 2017

NASM Certified Personal Trainer
What started out as a love for sports and exercise has turned into a love for motivating and teaching individuals of all ages to find activities and training styles that make improving their health and fitness a lifestyle. As a recent first-time mom, I have developed a passion for women's fitness. My prenatal and postpartum experiences have allowed me to form a deeper connection with the unique stages and physical changes women experience in their lifetime. I embrace this passion every day to encourage, strengthen and transform my clients into the best versions of themselves.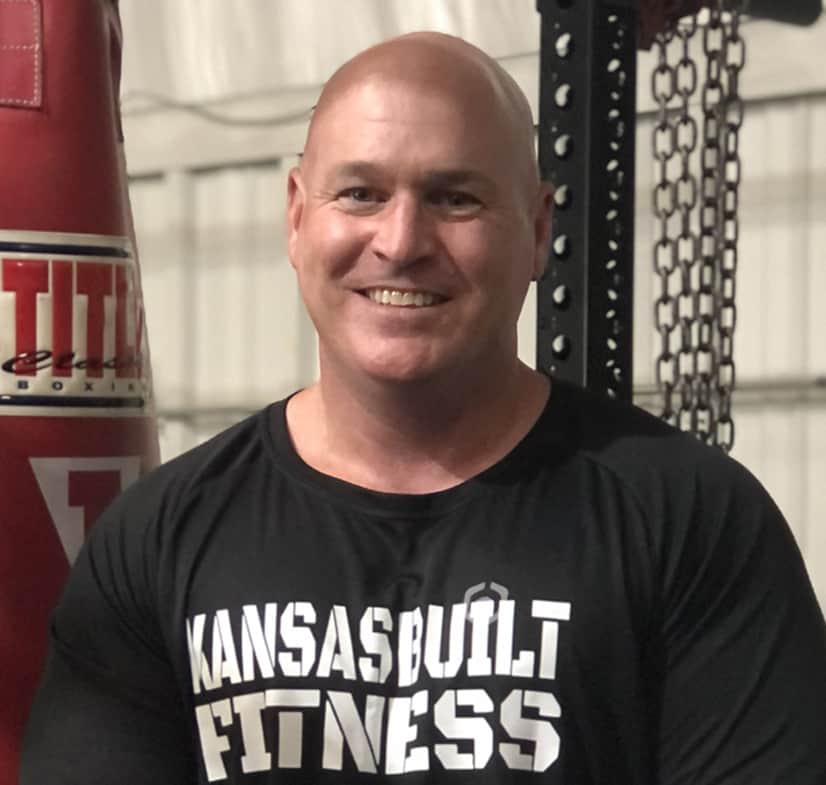 Brian
ISSA Certified Personal Trainer

Barbell Rehab Method Certified
I spent 25 years working in the corporate world and after retirement I was able to embrace my passion for fitness and use that to help others achieve their own fitness goals. I enjoy being able to help any and every client learn to love fitness and achieve any goal. From young athletes improving sports performance to powerlifters hitting major personal records to older adults staying injury free, I love it all! I currently hold the state record for bench press in the 45-49 age group at 220lbs bodyweight. Being strong doesn't have to fade with age, and that's something I encourage my clients to remember every single day.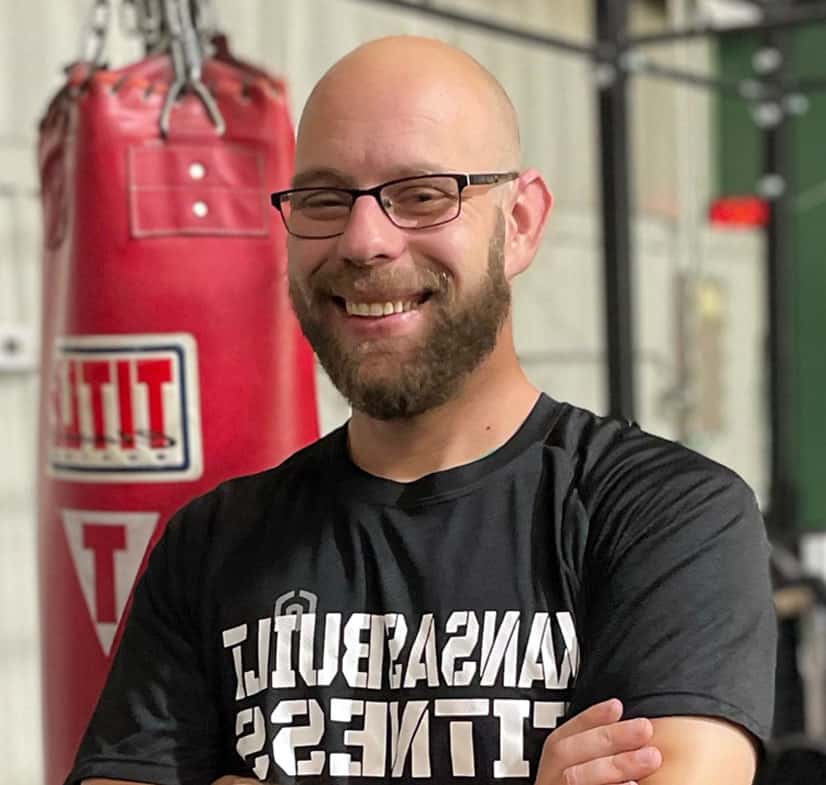 Brett
United States Army Veteran

NASM Sports Performance Specialist

NASM Certified Personal Trainer
I began my path in personal training while still going through my own weight loss journey. Around the time my youngest child started walking, I weighed more than 300 pounds and was starting to show signs of pre-diabetes. I knew it was time for a change, for my family and myself. I made the changes I needed to make, and quickly found myself living a happier, more fulfilling life. It was then that I knew I wanted to help others through their transformation journeys. I want to show my clients we can take the guess work out of fitness and accomplish solid goals together every day.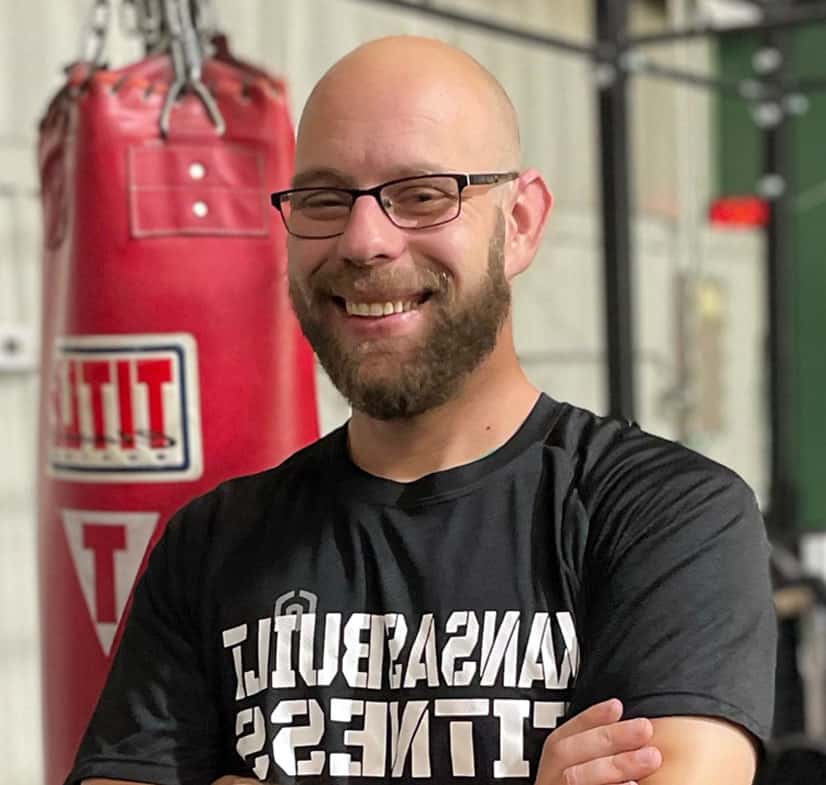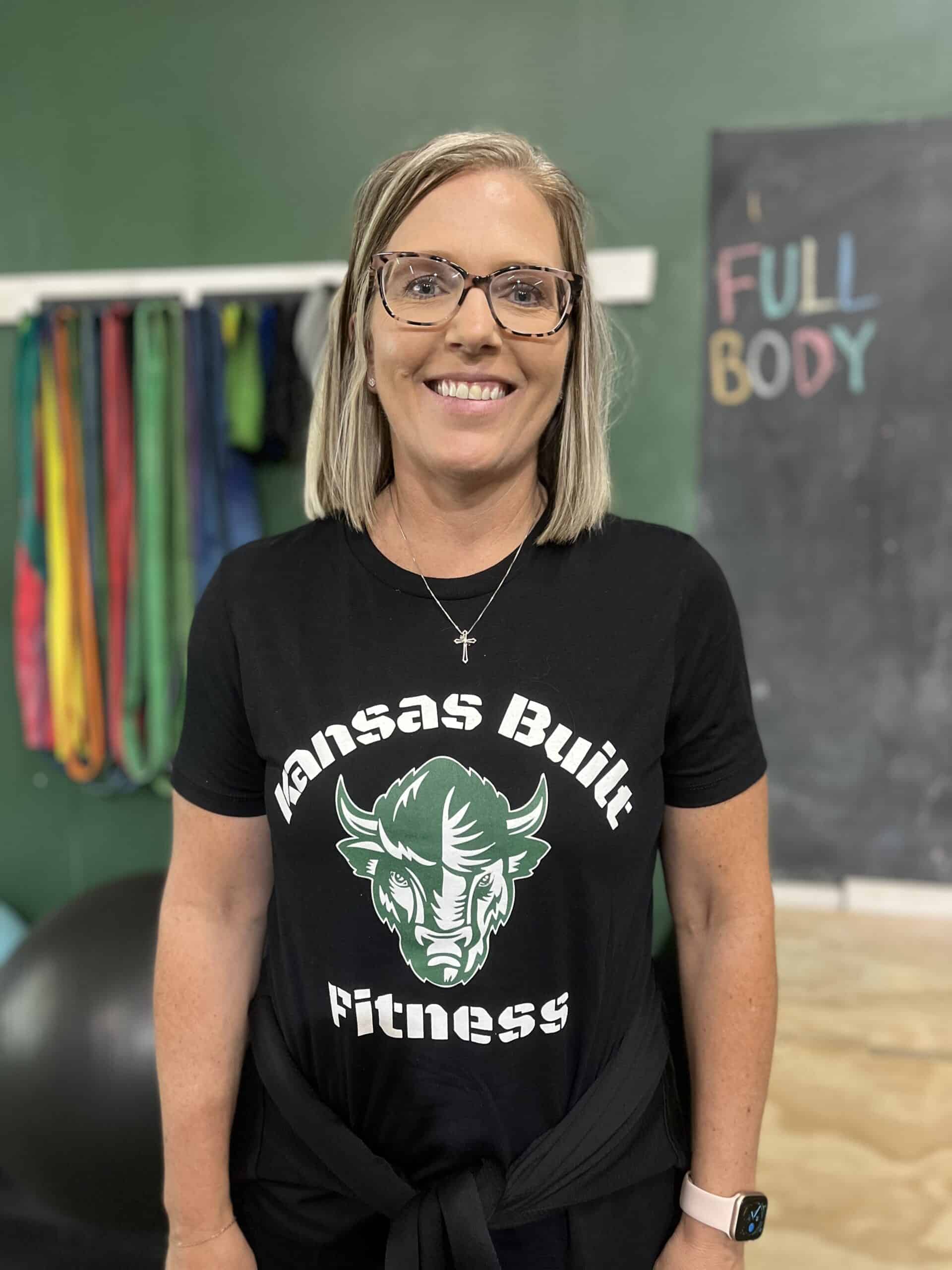 Tricia
NASM Certified Personal Trainer

NASM Certified Nutrition Coach
I came to find a love for fitness later in life. What began as a gift from my husband has turned into a gift I want to share with others. Working one on one with a personal trainer taught me so much more about myself than I would have discovered on my own. I got stronger, healthier and found an outlet to relieve stress and anxiety.
As a trainer, I want to help you become the best version of yourself. I want to help you become stronger, healthier, more confident, and cultivate a mindset of positivity. We need to pour into ourselves and take care of our minds and bodies so we can be the best spouse, parent, child, or friend to the people in our lives.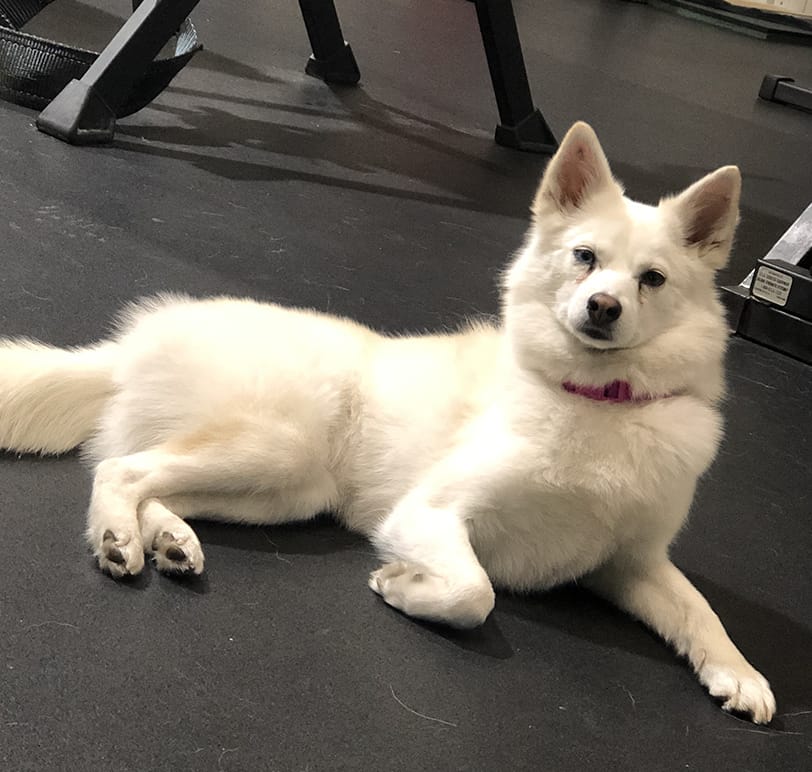 Ivory
American Eskimo Rescue Dog

Kansas Built Fitness Front Door Attendant and Greeter
I love coming to work every day and seeing all my fun friends at the gym. I sit by the front window and wait for you to come in and then let you pet my belly as your entrance fee. My favorite exercise is any that makes you get on the floor with me.